Hits a lot of sun in your garden, backyard, balcony or roof and you want to put plants that don't take a lot of...
Hits a lot of sun in your garden, backyard, balcony or roof and you want to put plants that don't take a lot of work? Because this post is for you! I selected 10 easy-care plants that love the sun. Choose the ones you like best and adapt to your space and follow the tips!
What is a full SOL plant?
First of all know that full sun plants are those who need around 6 hours of sunshine a day – both in winter and summer and suffer if they don't have it.
Note that there are plants that resist a great exposure to the Sun that don't be extremely strong, and that live well in half-left and even in the shade. So, even if it is on that list, place your plant under the sun and observe, especially the leaves, if it is not very strong for it.
10 easy-care plants that love the sun
It is so easy to cultivate that you will be forgetting it. It practically only needs sun or light (half shade). She prefers more sandy soil, so plant in a mixture of 1/3 sand, moist and substrate for seedlings.
It supports a long time without water. Only water when the soil is dry. To make seedlings, remove some leaves with rhizomes ("balls" that are below the soil) and plant.
Their flowers attract birds, but their red fruits are toxic.
The spectacle of the croton leaves is enough for us to fall in love. Knowing that it is one of the 10 easy-care plants that like the sun I have selected is even better. The more sun the more the leaves are colored. He likes high temperatures and high humidity. So cold and air conditioning are not good friends with him.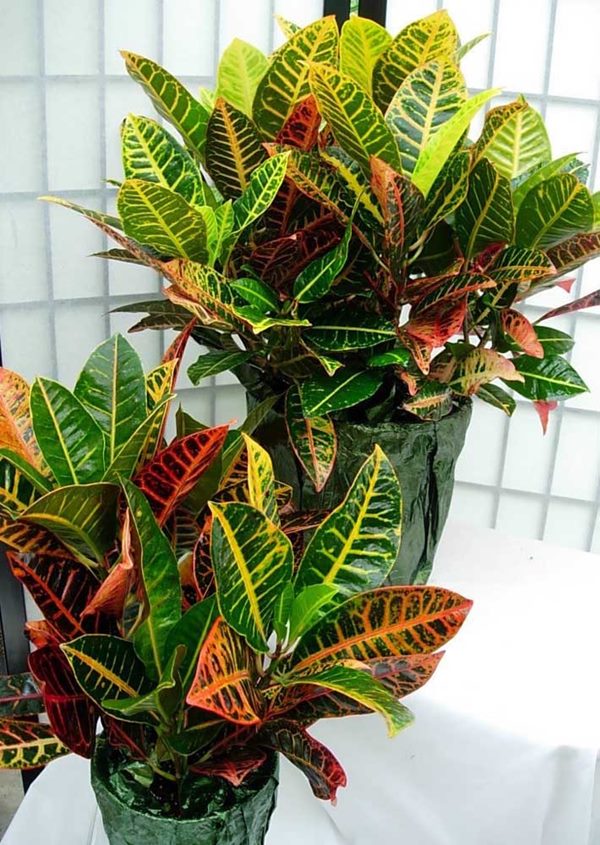 The croton likes moist soil, but not soaked. Water whenever the soil starts to dry out. We already talked about the crotons here.
It reproduces by cutting new branches and planting them or by layering (when you root a branch still stuck in the plant, removing the seedling and planting it later. See details here).
But be careful because it has a sap that is toxic. Wear gloves to avoid skin irritation.
A resistant plant that can be in full sun, half-shade and even in the shade. Need watering at least once a week, Do not leave the soil soaked.
It can be grown in pots and beds (if they are well, they will create many seedlings and fill the pot or space quickly), outside or inside the house near well-lit windows. It makes beautiful arrangements with cacti and succulents.
And it has a special feature that will be good for your health.
To plant, separate a leaf that has rhizome (part that is underground) or put a leaf in water and wait. Use 1/3 of sifted sand, organic compost, with earthworm and soil.
Keep away from small children and animals as it is toxic.
I love the lanthanes. They are one of my favorites in this list of the 10 easy-care plants that like the sun. Colorful, they have a subtle scent and attract the attention of bees, hummingbirds and butterflies. How not to love?
Resistant, practically do not need care – do you believe that here, in Rio de Janeiro, they grow spontaneously in different places?
They also support the half shadow, well lit. They give flowers all the time and many are multicolored.
To plant, mix vegetable earth, sand and earthworms in equal parts and place the seedlings in large pits. Water every day for 2 weeks and then only when the soil is dry. Prune the dry branches.
Another beautiful of the 10 easy-to-care plants that like sun and heat, the hibiscus is not demanding in relation to the soil and water (it just doesn't support frost) and is always full of flowers that attract hummingbirds and butterflies. It does not need pruning, apart from cleaning dry branches in autumn.
To plant you only need to stick in the soil – which can be more clayey – a branch more or less thick and water. The ideal is to keep the soil moist (but not soaked), and water it with water that is not too cold.
In pots, maintain good drainage. In places of half shade it will remain, but it will not give as many flowers. Caution: Hibiscus can be toxic to animals.
There are many colors and types of hibiscus. The above is called a folded hibiscus, due to the number of petals.
This vigorous plant, also called diets, is beautiful planted in groups on the beds. Withstands cold and heat, full sun or half-left (in this case, it will give less flowers).
The ideal substrate for it has a lot of organic fertilizer and it needs good drainage (add sand if the soil tends to soak) and frequent watering.
To maintain flowering, you can plant new seedlings every 2 years. To get them, divide some clumps, taking also the rhizomes and plant about half a meter apart from each other. They will fill the spaces.
It is a beautiful trail that has hairy flowers that resemble a cat's tail (I have never seen a red cat, but that's fine!
) It is great for bedding and flower pots (including pendants) and can line pots with other plants, helping to keep the soil moist.
The more sun, the more tails appear. It is very resistant, but not to frost and its roots are small, the pot does not have to be very deep.
The soil for planting can be mixed with garden sand to improve drainage. The ideal mix is ​​bed soil, sand and animal fertilizer in a 5: 1: 1 ratio. The soil should be kept moist, without excess.
To make seedlings, just break a branch, put it in the soil and water it every day, until it takes root. To plant, space the seedlings 15cm from each other, It will fill the space in a short time.
One of the 10 easy-care plants that like the sun with the most beautiful flowers, which form a bouquet and appear between spring and summer, especially when the clumps are in pots or are pruned beforehand.
It does not need much maintenance, they are beautiful for tall beds or wall edges. The ideal is to grow it on land with a good amount of organic compost and in Pleno Sol.
Reproduction is by division of clumps or seeds, but small ones take about 2 years to bloom for the first time. The earth must always be moist without exaggeration. Potted, drainage has to be great, don't leave standing water! When it is ripe, it will last longer without water.
For her to always be beautiful, every 4 years divide the packs and replant them.
The popular bird of paradise is also one of my favorites among the 10 easy-care plants that love the sun. Its durable flowers with a very original shape are the reason they are called the Bird of Paradise.
She's from the banana family, you know? Likes moisture (moist, not soaked soil) and good drainage.
It reproduces by dividing clumps and by seeds (but so it takes a long time to bloom). It does not hold up well on sloping terrain.
With a single clump she can produce about 20 flower stems. Therefore, plant the seedlings with a separation of 1 meter. Mix coarse sand and organic fertilizer into the soil so that it grows healthily. Water regularly and remove dead branches eventually.
The lower part is a modified leaf that really protects the flowers. Because it is so beautiful it is considered a cut flower and you must have already seen it in beautiful arrangements.
Another plant in the banana family, which does not need much care other than rich soil (tanned animal manure mixed in the soil), always slightly moist (if the leaves appear yellow it is because you are putting too much water) and hot weather. It cannot stand the cold.
The alpine has beautiful leaves and its flowers are small, white or yellow, but they have bracts (those leaves that protect the flowers and we think it is part of them) in red that make all the difference and are also widely used as flowers of cut for arrangements.
She's from the ginger family, you know? And it spreads by splitting clumps with rhizome, seeds or just rhizomes that should not be planted too deep in pots. The soil should be rich in organic matter, enriched with bone meal. Pick after planting and when the soil is dry and just wait.
After the leaves appear, you can take it to your space in the flower bed, which should not receive strong winds so as not to tear the leaves.