With so much choice of skirting boards for the home – rooms and bedrooms, kitchens and service areas, bathrooms and toilets, not to mention...
With so much choice of skirting boards for the home – rooms and bedrooms, kitchens and service areas, bathrooms and toilets, not to mention the outdoor areas and commercial environments – has become more complicated. To get it right you need to study the options and consider the needs, style of decoration, materials and colors, what already exists and your personal taste. Come on?
A simple porcelain floorboard as the floor, protecting the painted wall
Keep reading to know their characteristics and where it is best to use them
Footer Functions:
In addition to embellishing, he protects your flooring, conceals floor unevenness, facilitates cleaning, can hide wiring and even help in lighting with led strips or beacons that light the way.
(Photo: voceprecisadecor)
What is most important to choose well:
The needs of the environments: In wet areas (bathrooms, Kitchens, service areas and outdoors with walls not covered with porcelain or ceramic) footer material must be waterproof.
The pottery was used in the outside area as a
The flow of people into the environment: In many places, many people use harder and more durable materials (see materials below).
The size and height (right foot) of the environment: Large environments and those with high ceilings are more imposing with tall skirting boards (15cm up) and / or colors that stand out. But if the decoration is farfetched (full of furniture, colors and objects) prefer discretion in the footer. In small and / or low environments use low baseboards (7 to 10cm) that may be the same color as the wall or floor.
The low skirting does not detract from the height feeling of the environment, but was emphasized with the choice of wood as material (which remains in the door trim and exists in the environment – a different and harmonious option!)
Observe floor, doors and walls:
Porcelain, ceramic or cement walls not require a footer, especially if the walls and floors have the same coating (such as porcelain tile or burnt cement, for example).
Although it is a cheaper and practical option in general, the footer do not need be equal to the floor or trim neither in color nor in material. It is only necessary that the set be harmonious in color and style.
Footer in metallic tones that worked beautifully in this environment of CampinasDecor, by Christine Di Domenico. See that trim and stops keep the material and model but the baseboard was duplicated (Photo: Miro Martins)
I consider it more balanced when the footer is of the width or greater than the garrison.
In wooden floor or that imitates it, if you choose wood skirting choose the same material OR a totally different color and that matches with floor and wall.
Avoid even using porcelain or ceramic skirting boards on wooden floors (installation may damage wood).
I think the footer is built-in, but it can be a painting. Either way, the built-in footer would have this effect. And look how interesting the color black and these drawings or stickers! The footer can be very creative! (Photo: home adore)
Already porcelain floors allow the use of wooden / MDF skirting boards, unless the area is wet (water will damage the floor).
If the floor is very designed counterbalance with a more discreet footer. The same with a wall with colored coating. White or neutral colors are good choices.
The colored wall has received a tall base in neutral color that exists in the environment and accompanies the doors (Photo: ApartmentTherapy)
THE trim (sight or view) of the door should be a bit deeper than the footer. If you need to hide gaps, use a sink between them. The basement looks beautiful a little higher than the footer. Its use is perfect in more classic environments.
The name of things for you to understand better
The color of the footer: If you wish emphasize the footer choose a different color of floor and wall, but that exists in the same, lighter or darker environment. Whites combine almost everything.
Footers in bright colors emphasize a dark wall. At same color as the wall not "flat" environments with low right foot.
(Photo: ApartmentTherapy)
The types of footer:
You can choose to skirtings smooth (most used today – they are lightweight and elegant and exist in all materials), beaded (those with grooves), with rounded edge (accumulate less dirt) or straight. There are also overlapping heights And what else can you imagine … rs! The more decorated best serve classic-style environments.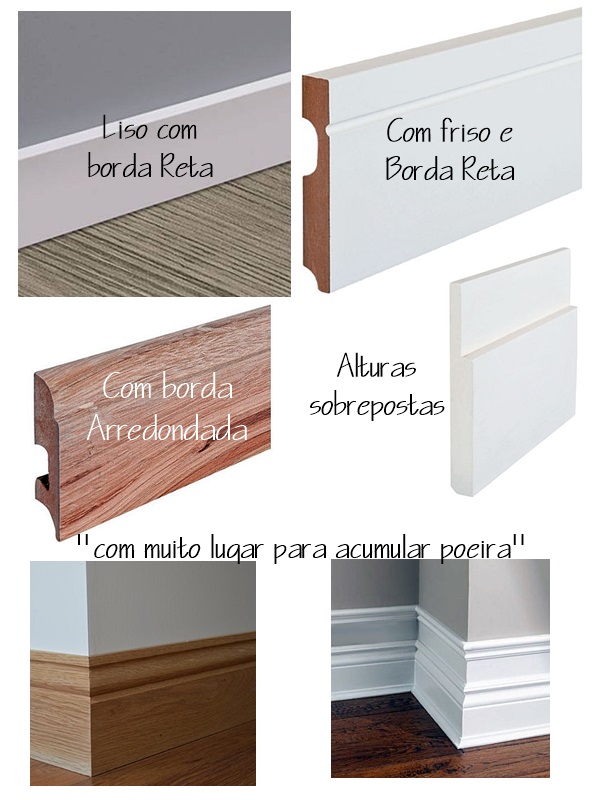 The ways to structure the skirting boards:
The great drawing below, one of the most copied on the internet and that is from the Site Architecture Tips shows the common ways to solve the encounter of the floor with the wall. Since the situation no footer, until the embedded (which does not "leave" the wall) and the most recent inverted or negative footer which is "inside" of the wall (I think it's pretty, but it should be a job to clean and I do not know if it serves well the function of preserving the walls, even with the angles).
Constructive detail for baseboards
The materials:
Many apartments are delivered with a 7cm wooden skirting board. You can keep them, varnish them, paint them or make the exchange later. If you want to change the floor you better wait to do everything together.
PVC "It's plastic, it's low-priced, it's moisture-resistant, it's spinning, but you're not, handsome!"
Expanded Polystyrene (EPS) – Much used today it is made of recycled styrofoam. It is durable, allows the passage of cables, resists moisture, is found in several colors and can be used on all types of floors. Accepts paint. Good for hardwood floors, laminate, porcelain tile and ceramics.
watch out if its wiring fits into the skirting features you choose and still maintain 50% rip area freeand to avoid overheating)
And look at a footer that is inverted but still lit! (Photo: fattoarquitetura)
Porcelain – Very durable, water resistant, it has parts for specific use like skirting board (which is much simpler to install and is usually more beautiful … but it is more expensive). It is thinner than other materials. Does not allow spinning. It is dangerous to install on wood floors due to the use of mortar to install the baseboard. It looks good even with porcelain tile floors, ceramics, burnt cement, marble and stones in general.
Ceramics – Basically similar to Porcelain, but ready-made models are more limited.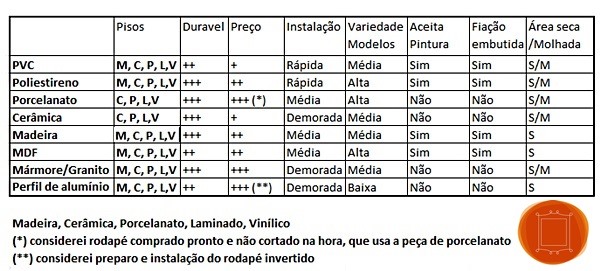 A synthesis for you
wood – Durability greater than the MDF, allows passage of wires, can attract termites and warp over time, is not water resistant. Accepts paint. It combines with wood floors, laminates, vinyls and even porcelain tiles and ceramics (without contact with water).
MDF – Similar to Madeira, with less durability and lower price. It does not attract termites. Can not resist water. Various models and colors. Accepts paint. It combines with wood floors, laminates, vinyls, porcelain tiles and ceramics (without contact with water).
A common arrangement in baby's room, just so you know the name of the rodameio rs!
Marble and stones – Very durable, one of the most expensive materials – mainly marble. Installation laborious.
Aluminum profile – Used in the negative or inverted footer.
This monster post is to compensate for the delay in the posts. I hope you liked it and took all your doubts about skirting boards, but if you still have some or if you discovered some nonsense that I wrote there (who talks a lot, ends up talking nonsense, my grandmother already said …!) Comment here, ok?