Do you really want a modern decor or architecture for your home?
Many people use the term Modern When should I speak? Contemporary. And vice versa. Many believe that Modern and Contemporary are synonymous. But they are not. In fact, the Modern He's alive, but he's old-fashioned, see?
Living room with modern furniture: Chair Barcelona (by Mies Van der Rohe, Chair created in 1929) Photo: Style Concept
THE STORY says that the so-called period Modern started in taken from Constantinople, in 1453 and ended in 1789 when did French Revolution. Then began the period Contemporary, which comes to this day. These events mark moments in which great changes that happened in the head of the people made the world change the way they think, live, create, live, etc., breaking rules that had lasted for centuries!
Living room Modern the Frank Lloyd Wright Foundation – 1959 (Photo: TaliesinInterior_Andrew-Pielage-Frank Lloyd Wright Foundation)
Already in Architecture and Design these styles were born some time later – which is easily understood considering that it takes time for the changes in the heads to create things in the world, of course!
Living room contemporary (luminaires created in 2005 by Tom DixonContemporary furniture) with modern furniture (Lounge Chair and Ottoman – 1956 and DSW – 1950 Charles and Ray Eames (photo: Rsvalente)
Therefore, the Modern style emerged strongly and was greatly influenced by Industrial Revolution, which came from 1760 to 1840 or so. Before, everything that was produced was of artisan form and there arise machines for everything (fabrics, metals, etc).
Brasília – Example of Modern Brazilian Architecture – Founded in 1960 (photo: archtrends)
In moments of great transformation there are those who are against and in favor. For this reason, several "schools" with different ideas emerged, but together architecture, arts and design of 20th century (between the decades of 10 and 50 – see again the "delay" of the "thinking heads" to create): Bauhaus, Le Courbusier, Frank Lloyd Wright, Arts and Crafts, Internation Style … Everyone is modern. And their common ground was queber the old rules! In architecture, especially that of the 19th century (the Garnier Palace in Paris is an example of what they hated):
The modernists said that this architecture had a "devotion to ornament "(they have some reason, right?)
Hence the architecture and design of the Modernists aimed at create economic, geometric, clean and minimal spaces and objects. Everything should be useful (Remember "The shape follows the function"? This means that the functionality is more important to modernists than the form of buildings, objects or elements.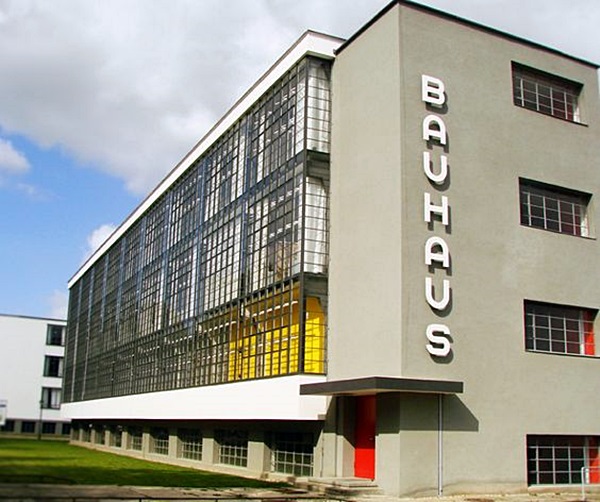 Building that hosted the Bauhaus from 1925 to 1932 in Dessau, Germany. Bauhaus style icon and one of the symbols of the modernism (photo: Technical Entrepreneurship – Pinterest)
Another phrase that epitomizes the goals of the Modernists is "Less is more" , of the architect Mies Van der Rohe, who died in 1969 for you to have an idea of ​​how Modern is ancient, but also see how it is still inserted in our day-to-day!
Contemporary construction – chanel-contemporary-art-container – Zara Hadid (photo: dezeen)
And look that's why the confusion happens: O Contemporary Style (which some call post-modern) has a huge influence on the Modern style. It was not a break or a fight with the previous styles. He uses the style Modern but "allows" to go further, making peace with previous styles, including and especially the Modern, adding curves and giving more value to the shape. It also values ​​sustainability, the environment and these things that concern us in the here and now …. It's the style that we are living and creating, that can change soon. What goes into Industrial, which goes to the Minimalist and goes where we do not know yet. Contemporary means "Of our time". It is happening and transforming now, at this moment. And these are the differences between them.